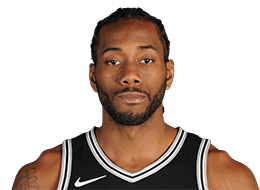 Kawhi Leonard
6'7" forward 27.2 years old
What do the Numbers on this Page Mean?
click to show/hide
The big numbers in the table show the percentile for that player's stats in a game compared to all other games played this season. The small, gray numbers are the actual stats. All columns are sortable.

For more on what each specific statistic means and how to interpret them, click the "Guide To Understanding This Table" link on top of the table.
The red/blue numbers show the percentile rank for that stat compared to all other games this season played by players at their position grouping with more than 5 minutes played in the game.
Gray rows indicate playoff games.
Date
Opp
Team
Pts
Opp
Pts
MIN
PTS
REB
AST
FGM/A
3PM/A
FTM/A
Usage
PSA
AST%
TOV%
ASTD%
fgOR%
fgDR%
BLK%
STL%
10/17/18
vs.
CLE
W
116
104
37
24
13
2
9/22
1/3
5/6
90
31.6%
46
96.0
43
6.9%
60
10.9%
76
33.3%
56
2.9%
93
26.2%
0.0%
0.0%
Guide to understanding this table
The rest of this page is for
subscribers only
.
It includes:
Advanced player stats for more than just the first 5 games